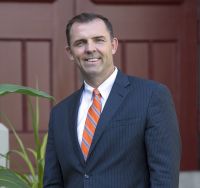 J. Edward Kidd, Headmaster
Welcome to Ridley!
One of the favourite times of my day is the opportunity to walk the halls of Ridley College, drop in on classrooms and watch active learning in action. At Ridley College, you will find that students are engaged in exploring new ideas, debating eternal questions and solving relevant problems. Learning is student centered and exciting to witness!
In our Lower School, you will discover inquiry-based learning in all classrooms from kindergarten to grade 8. Students engage with 'big ideas' and pursue essential and enduring questions – 'what is an economy and how does it impact the human experience?" You'll see students Skype interviewing an anthropologist from Kansas. You'll hear the excitement of innovation in the robotics lab.
In our Upper School, you will meet young adults who confidently pursue their passions – academic inquiry, athletic endeavor, or artistic expression. You will see focused and disciplined students leading a Socratic seminar in a literature class, singing a solo in chapel or persevering through a 2 kilometer time trial in our indoor rowing tank.
Cultivating the full potential in each student requires a caring, committed and world-class faculty. The task also requires intimate relationships that are built day by day, year after year. At Ridley, you'll find a community of adults who are excited to build those relationships. As a boarding school, Ridley provides students with a 24/7 experience that will help you cultivate those lifelong bonds with peers and adults alike – in the classroom, in the House, on the ice or in the theatre.
The reality is that one cannot be certain what children and young adults can do until we challenge them to be their best. At Ridley, students are surrounded by peers who share their sense of purpose, who believe in the value of hard work and who are building the courage to pursue their dreams. Add to this the experience and care of a community of adults who are dedicated to nurturing their potential, and you have the Ridley formula.
I hope that our website offers you a glimpse into the life of our unique community of learners and that you are inspired to look deeper into the Ridley experience. Check out our Youtube channel to get a real glimpse into the Ridley difference. Better yet, I invite you to visit the School, to soak in its idyllic setting, to experience classes in action, to meet teachers and Head of Houses' and to talk with students. We warmly welcome you and your family to Ridley.
I look forward to greeting you on campus in the near future.
Come experience the legacy that is a Ridley education.
J. Edward Kidd
Headmaster
Introducing Amelia Ritchie '17, a Ridleian who has truly immersed herself in all that Ridley has to offer – from sports, to academics, to extracurriculars. This fall, Amelia begins her final year at Ridley. Read our Q&A with Amelia to learn more about this Ridley Prefect.
Why did you choose Ridley?
I chose Ridley because I loved the environment, and I realized how many things Ridley could give me, as opposed to a regular, public high school.
Did you feel prepared coming to Ridley?
I did feel prepared coming to Ridley. I was definitely nervous, but I also felt ready to take on a bunch of different activities.
Who is your favourite faculty member and why?
I can't pick just one, however, my top three would have to be Miss Blagona, Mrs. McNiven and Mrs. Darby, because all three of them have supported me so much, in multiple different ways. I always love seeing them in the halls and having them there to talk to!
What has been your greatest challenge thus far at Ridley?
My greatest challenge thus far at Ridley has probably been realizing what is actually important for me to be focusing on. When so many responsibilities are piled onto you, and there a lot of things you want to do on top of those, it's hard to realize what is really important and to keep your eye on the prize.
What has been your greatest accomplishment thus far at Ridley?
I think my greatest accomplishment thus far at Ridley has been taking advantage of the activities and extracurriculars. I have been in a lot of different activities over my three years, and I have managed to find my niche within those.
What has been your favourite Ridley experience?
My favourite Ridley experience…wow it's hard to pick just one! If I had to choose one, I would have to say Snake Dance. The amount of school spirit everyone has is awesome to see and be a part of! I also really enjoyed OFSAA basketball in the fall of 2015!
What is your favourite part of Ridley life?
My favourite part of life at Ridley is the sense of community it gives. It's not just that we are living in such close quarters, it's knowing that everyone else is doing the same things as you are and feeling the same things as you are.
What part of being a Prefect are you most excited for?
The part of being a Prefect I am most excited for is having the platform to meet every new person who comes to this school and being to have conversations with them and learn interesting things about them. I am also looking forward to potentially being a mentor to those who want/need one.
How has Ridley prepared you for the future?
Ridley has prepared me for the future by teaching me, through the opportunities presented and through a need for time management, that I can do whatever and however much I want to do. It has given me a taste of my full potential.
What are your plans after graduation? 
I plan on going straight to university after graduation. I'm not yet sure which university, however, I think I want it to be in a big city and I would like to pursue law and international relations.
What advice would you give prospective students about Ridley?
Don't be nervous, and don't be afraid. Those two emotions limit the things that a lot of people partake in at this school, and they stop people from doing the things they really want to do – not just what activities and sports they do, but also the classes they take, the friends they pursue, and the fun they have. Remember everyone is in the same boat as you are, everyone is feeling what you are feeling. It's the people who overcome these feelings that feel like they got the most out of their experience.
2017Amelia Ritchieboarding schoolCAISCanadian Association of Independent SchoolsCanadian boarding schoolGet to Know Your Prefectindependent schoolNiagaraOntarioPrefectRidley CollegeSchoolSt. Catharinestips for new students