St Vincent Worcester Ma Internal Medicine Residency Personal Statement
Application Process
Application process is via the Electronic Residency Application Service (ERAS). We do not accept applications or additional letters of recommendation received in the mail or sent by fax. The program is notified when an applicant updates their file.
Program Requirements for U.S. Medical Graduates:
Letters:

MSPE/Deans Letter
Letters of Recommendation (minimum of three):

One from the department of medicine at your school
Two from professional contacts of your choice

Medical school transcripts
Passing score from the USMLE* Step 1, Step 2CK, and Step 2CS
Personal Statement
Program Requirements for International Medical Graduates:
U.S. citizen or permanent residency

We only accept J1-visa's sponsored by the ECMFG and H-visa's in transfer
We Do Not Initiate H-visa's

Recent U.S. Clinical training in an ACGME approved program is preferred
Recent graduate of medical school preferred
Valid ECFMG certificate/status report including passing USMLE* Step1, Step 2CK, and Step 2CS
Letters

MSPE/Dean's Letter
Letters of recommendation (minimum of three):

One from the Department of Medicine at your medical school
Two from professional contacts of your choice

Medical school transcripts
USMLE transcript that documents pass on first attempt
Personal Statement
Current curriculum vitae which includes all activity from the date of medical school graduation to present **
* The program accepts COMLEX scores for applications in an osteopathic program in lieu of USMLE
** All time must be accounted for
Interviews
Invitations for interviews are issued only after the applicant's file is complete and has been reviewed. All first-year appointments are made through the National Resident Matching Program. All appointments are for one year and will be renewed by mutual agreement of both parties.
The Massachusetts Board of Registration in Medicine requires passing scores on USMLE Step 1, Step 2CK, and Step 2CS for eligibility for a limited (training) license which is required to start a PGY-1 year. There is no flexibility on this requirement. Programs at UMass Medical School are not all requiring that students take Step 2CK and Step 2CS prior to scheduling an interview; however, programs may decide against ranking an applicant who cannot provide passing scores by the NRMP Rank Order deadline.
Once contacted for an interview, an applicant may make arrangements for local transportation and accommodations. Please click here for more information.
More Information
FAQ's
For additional information please contact the Residency Office at (774) 442-2173 or (774) 442-2174.
Applying to the Worcester Family Medicine Residency
Questions about your application? Please contact Michael Smith, Associate Director of Admissions, at 508-334-8023 or Michael.Smith@umassmemorial.org
We only accept applications through the Electronic Residency Application Service (ERAS) and fill PGY-1 positions through the National Resident Matching Program (NRMP) only. Please note that we cannot accept applications sent to us via fax or email!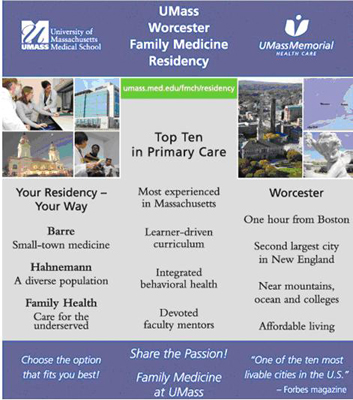 A complete application file for all LCME and International Medical Graduates must include:
Completed ERAS Application
Medical School Transcript indicating medical school graduation within 5 years
Medical School Dean's letter
Passing scores on USMLE 1, 2, 2CS, or COMLEX exams by second attempt
At least 3 recommendation letters from faculty supervisors
Personal Statement
Interview
Additional application requirements for International Medical Graduates:
Valid ECFMG Certificate
The preferred visa option is J-1.
Minimum of 6 months of prior U.S. or equivalent clinical experience with significant patient care responsibility to include:

Direct patient contact
History taking
Physical examinations
Development of differential diagnoses
Identification of relevant clinical findings
Problem assessments
Formulation of management plans
Observerships/externships which do not include the above cannot be accepted
The Match

Our program is like three residencies in one! Applicants may list one, two, or all three health centers on their match list depending upon personal preference.

Applicants must interview at each health center they intend to rank since each health center constructs its own rank list. The UMass Worcester Family Medicine Residency has three separate match numbers – one for each health center:
Barre Family Health Center (Barre)

3050120C2

Family Health Center of Worcester
(Queen Street)

3050120C1

Hahnemann Family Health Center
(Lincoln Street)

3050120C0

NRMP policy requires that each training program provide complete and accurate information to interviewees, including a sample contract and the institution's policies on visa status and eligibility for appointment to a residency or fellowship position, as applicable. Please find additional information here.